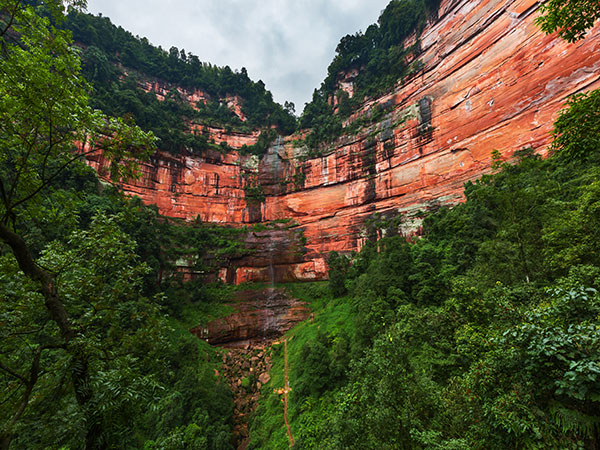 Chishui Danxia Landform is located in Chishui City, Guizhou Province. It is the representative of the early youth Danxia landform, and it covers and area of over 1200 square kilometers.
Chishui Danxi is the largest and most spectacular Danxia landform in China. Chishui Danxia with Hunan Langshan, Danxia Mountain in Guangdong, Taining Dajinhu in Fujian, Jiangxi Longhu Mountain, Zhejiang Jianglang Mountain combined into "China Danxia", and was approved by votes in the 34th World Heritage Conference adopted vote to be China's eighth World Natural Heritage Project.
Danxia Landform
Danxia landform is a special red rock landscape developed in southern China. In ancient times, there had deposited a thick red strata. Because of the weathering and water erosion, it had been cut into red valleys, isolated mountains and steep odd rocks, which is the Danxia Landform we see today.
Natural Landscape
Chishui Danxia Landfor is plateau canyon Danxia in humid subtropical zone. It had developed Danxia cliffs, square mountains, stone pillars, valleys, grooves and other typical Danxia individual forms. Because favorable natural conditions and few human activities, Chishui Danxia have developed and well preserved Cyathea National Nature Reserve, Zhuhai National Forest Park, Swallow Rock State Forest Park, Subtropical Evergreen Broadleaf Forest Nature Reserve. There are complete ecosystems with high rate coverage of forest and rich species. Chishui Danxia is mainly featured by high terrain, deep narrow valleys, red cliffs and flying waterfalls.
Characteristics and Uniqueness
【Characteristics】

Unlike other Danxia landforms in the China, Chishui Danxia belongs to the young early Danxia, which is also the most beautiful phase. There is not only the Danxia landform but also combines waterfalls, wetlands, Lam and other natural beauty. Forests coverage rate reaches more than 90%. It is also known as the "green Danxia". The large area of ancient vegetation and a variety of rare and endangered plants and animals together become the most unique features of Chishui Danxia.

Chishui Danxia Landform, with its bright red Danxia cliff, imposing isolate peaks, thousands of spectacular rocks and mountains, huge rocks gallery and Danxia caves and canyons and beautiful green forest form a incomparable amazing tourist area .


【Uniqueness】

1. Chishui Danxia Landform is the only high, deep and secluded valley Danxia Landscape in China.

2. The only one of China Danxia with the hundreds of waterfalls: more than 350 waterfalls fly high to the deep valleys, nearly each waterfall has its own cascades group in different forms and scales.

3. It is the only one of China Danxia which is the pure sandstone danxia landform.

4. It is the only early youth Danxia landscape of China Danxia, marks early development of the Danxia landform.