The Combined photo shows the moon in various stages of a total lunar eclipse over Shenchi, north China's Shanxi Province, on Dec. 10, 2011.
Enthusiastic skywatchers across China swarmed to streets, planetariums and mountains to watch the total lunar eclipse on Saturday night, the best such celestial show in China in ten years.
The spectacle, which could be admired in much of the world, began at around 7:30 p.m. in Beijing and lasted for six hours, when Earth moved between the sun and the moon and cast its shadow over the lunar disk.
However, the refracted sunlight still illuminated the moon, making it appear reddish and supersized.
In Beijing, more than 500 astrophiles went to the city's planetarium to watch the sky show with the help of four optical telescopes.
"The lunar eclipse tonight is quite enjoyable for ordinary watchers as it happens at such a fine Saturday night," said Zhu Jin, head of Beijing Planetarium.
In Hangzhou, capital of east China's Zhejiang Province, local residents and tourists took to the West Lake despite a steep drop in temperature after a cold front swept across the region.
Southwest China's Tibetan Autonomous Region also witnessed an influx of skywatchers and photographers, who are attracted by the plateau's clean air and shiny night.
"I traveled here all the way from Chongqing just to capture the best of the moon, and Tibet's clear sky has not disappointed me," said Yang Long, a journalist photographer from the southwestern municipality of Chongqing.
Saturday's total lunar eclipse is considered the best of its kind since 2001, according to Wang Sichao, a research fellow with Nanjing-based Zijinshan Astronomical Observatory under the Chinese Academy of Sciences.
"It is the best because it offers people residing in China a perfect chance to observe the entire process," said Wang.
The next total lunar eclipse would occur in October 2014, but the Chinese had to wait until 2018 to enjoy an entire process, Wang added.
On the country's popular micro-blogging sites, photos by professional and amateur photographers were widely forwarded, and topics about the eclipse received millions of comments as of Saturday evening.
Local newspapers and airline companies also summarized or recommended those flights offering the best view of the eclipse in the air.
Source: Xinhua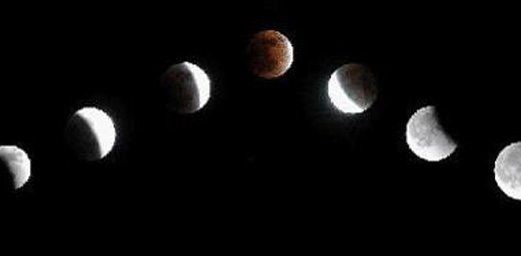 (Xinhua/Fan Minda)