Chengdu People's Park is located in downtown Chengdu Ancestral Street Shaocheng Road, and is a comprehensive garden in collection of cultural relics and entertainment. Park was built in 1911; the park has the Jinshui Creek, Goldfish Island, Miniascape Garden and other famous tourist attractions. Chengdu People's Park is a comprehensive park with garden, culture, cultural relics protection, patriotism education, leisure and entertainment in a whole. And Chengdu Park is the national "AAAA" class tourist attractions.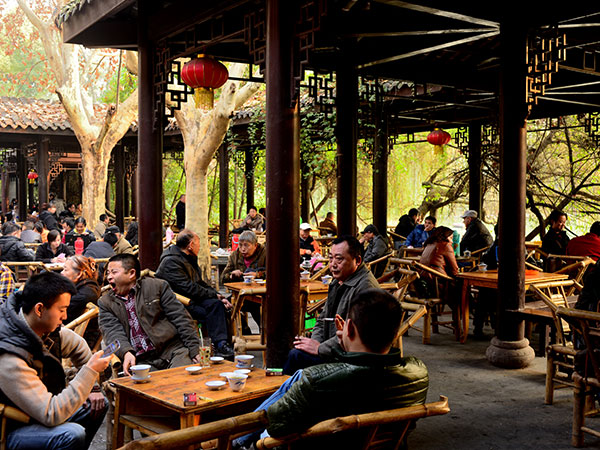 History and Geography
Chengdu People's Park, formerly known as Shaocheng Park (Small City Park), was founded in 1911.The name of Shaocheng Park directly related to the old Chengdu city. Chengdu City based on big city and small town in the past, early in 311 BC, the king of Qin, Chengdu has Taicheng (also called big city) and Shaocheng (also called small city). Chengdu People's Park is located in Shaocheng Road No.12 Ancestral street downtown Chengdu, covers an area of 112639 square meters, is the largest open landscape historical park in the bustling downtown center.


Sights and Attractions
【Jinshui Creek (Golden Creek)】

Jinshui Creek is located at the foot of West Hill lotus pond in the People's Park, which passes the gate to the eastward gate along the medial, total length of 355 meters, 6 meters wide. Started in 1999 and completed in August 2000.Paved smooth pebble from bottom, and along the creek was paved with the cobbles into the crook with sizes. And along the bank, there are peach trees, willow, yellow oak tree, filamental flowering crab, wintersweet, lobular privet, gold leaf privet, red leaves berberis plants, etc.
【Goldfish Island】

Goldfish Island is located between Heming Teahouse in east side and artificial rockery waterfall; it is in the artificial lake and connects with Heming Teahouse by the arch bridge. Chengdu People's Park developed and utilized the Goldfish Island in 2004, restored the historical old teahouse "Yongju Teahouse", combined the old teahouse with goldfish fish island, it provides a place for people to enjoy the cool, recreate, entertain, watch fish, fishing, sightseeing, have some tea here, which represented the goldfish island landscape. On the island there existing ornamental goldfish, treasures goldfish for more than 10 varieties of hundreds of the tail.
【Miniascape Garden】

Miniascape Garden of People's Park is located in the south central park, covering an area of 2600 square meters, with rest hall, lotus pond inside. Pond shore was stacked with rockery and set radix ophiopogonis and azalea, the pool was filled with water lily, lotus, callas, umbrella plant, aquatic plants, etc. There are lush trees, green bamboos in the garden and the environment is quiet. Perennial exhibited bonsai of more than 200, of which more than 20 landscape bonsais, stump bonsai of more than 180, including elm, ginkgo, podocarpus, and bignoniad. Podocarpus bonsai in the park has won the special award of Chinese bonsai comparison show, which is the treasure of Chengdu People's Park.
【Zhenliu Tea Garden】 "Zhenliu Tea Garden" is one of the oldest tea garden in the People's Park that equally famous with Heming Teahouse. Zhenliu Tea Garden was founded in the early years of the republic of China. Its original base was in the People's Park of Chinese Flowering Crabapple Garden in the west of bridge of creek. Zhenliu Tea Garden covers an area of about three hundred square meters, if including the building hall, the usable floor area of five hundred square meters.

Zhenliu Tea Garden is located in West Hill of People's Park. Before liberation, it was a place more for scholars and the student gathering. In January 2003, it was restored and reconstructed, and completed in May 2003. Tea garden is lush, springs gurgling, quiet environment, rock stands where represents the massive historical features and leisure resort in downtown. Zhengliu Tea Garden is a collection of tea art, Chinese food, snacks, chess and card multi-functional modern urban ecological tea garden.


Exhibition
【Chrysanthemum Exhibition】 Chrysanthemum cultivation has a long history, 2500 years ago in the ancient books recorded chrysanthemum. Chrysanthemum in addition to have a high ornamental value, but also can eat, drink, brew, use as medicine, which has practical value.

The fifth Chrysanthemum Exhibition, with flowers as the media so as to promote and generalize chrysanthemum planting technology research and application in order to beautify urban and rural people's life. Chrysanthemum Exhibition assemble national chrysanthemum of more than 1000 kinds of high-quality goods, more than 200 thousands plants.
【Lotus Exhibition】 Lotus is one of the ten famous flowers in China, the Sixth National Lotus Exhibition is sponsored by the China Flower Association, Chengdu Municipal People's Government Office, China Flower Association Lotus Branch, Chengdu Municipal Bureau of Parks, Garden Society of Chengdu City, Chengdu people's Park. The exhibition was held in 1992 July 10 to August 24 in Chengdu People's Park which was a national lotus exhibition event.


How to Get to Chongqing People's Park
Chongqing People's Park is located in the prosperous city center, the transportation is convenient. If you want to reach the gate of park, you can take bus No.4, 5, 13, 14, 47, 29, 53, 64, 78, 98; Taking bus No.93, 94, 29, 53, 98, 29, and 340 bus to new west gate of Xiaonan Street; or taking bus No.4, 30, 57, 98, 43, and 81 to new east gate Rockery Square in Banbianqiao street.