Barkhor Street (Chinese Name: 八廓街), a circular street at the center of Lhasa, is the oldest street in a very traditional city of Tibet. It is a place where Tibetan culture, economy, religion and arts assemble and a place to which a visit must be paid. Barkhor is the road that pilgrims tramped out around Jokhang Temple through centuries. Buddhist pilgrims walk or progress by body-lengths along the street clockwise every day into deep night. Most of Lhasa's floating population is comprised of these pilgrims. The pilgrim walk outside four columns on which colorful scripture streamers are hung, a custom began in the Tubo period as a way to show respect.
Barkhor Street is a famous commercial and commodity-distributing center in Lhasa, consisting of more than 120 handicrafts shops and more than 200 stalls. It is a good choice that should never be missed by tourists coming to Lhasa, for you can buy anything Tibet-related, from sacks of incense, chunks of yak butter to monk outfits. Barkhor is the road that pilgrims tramped out around Jokhang Temple through centuries. When walking along Barkhor Street, you should move in the clockwise direction. Barkhor Street is built and devolped with the development of the Jokhang Temple, it has a history of more than 1300 years.

History Development
7th century, Tibetan king Sontzen Gampo ordered to build Jokhang Temple in Wutang Lake, and build four palaces around the lake at the same time and his concubines and subjects moved to palace personally supervised the progress of the Jokhang Temple construction. Four palaces are the earliest buildings in the Barkhor Street. After the completion of the Jokhang temple, attracted numerous pilgrims to worship, with times here gradually stepped a trail around the Jokhang Temple, which is initial Barkhor Street. Around the temple there were 18 familial buildings constructed successively, which offer accommodation for believers or businessmen who come a long way to the pilgrimage.
After the 15th century, the Jokhang Temple became the center of the spread of Buddhism, the surrounding appeared monks dorm, religious schools, small temple architecture, and many buddhist believers move to live around the Jokhang temple, the street was gradually emerged a large number of houses, shops, hotels, manual workshop facilities, etc. With religious status deepened, Jokhang Temple Tibetan Buddhism thinks, walk clockwise around Jokhang Temple is "circumambulation", expresses consecration and worship to Sakyamuni Buddha statue in the Jokhang temple, therefore Barkhor Street became one of three circumambulation roads in Lhasa. Later it appeared many vendors, pilgrims and vagrant come from Mongolia, Han nationality, Kashmir, Nepal, Bhutan, India and other regions and countries, developed into a block that assembled in religious street, sightseeing street, customs street, cultural street, commercial street and shopping street.
What to See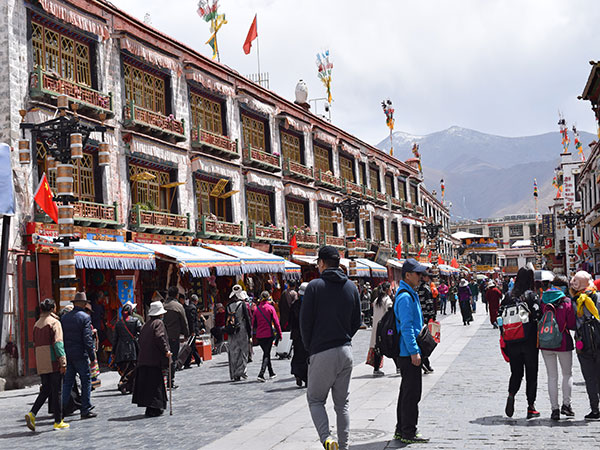 【Circumambulation road】
Barkhor street circumambulation road is one of the most important circumambulation roads in Tibetan people's heart. In the evening after a specific time to circumambulate, those circumambulators–there are people from northern Tibet pastoral area with wearing a white robe, people from Kangba mountain region, and people who live in Barkhor blocks in beautiful dress…Anyhow, all sorts of believers, like suddenly received a command then began to strictly walking around according to clockwise direction along the circumambulation road.
【Dalai Secret Palace–Makye-ame】
When visiting to Barkhor Street, there is a place must go and have a look: Makye-ame Tavern. Barkhor buildings are mostly white, only there is a two storied painted yellow building in the Barkhor southeast corner. It is a restaurant of Nepal, Indian and Tibetan flavor. The platform of the roof is an excellent location for overlooking the Barkhor South Street and East Street. The name Makye-ame, came from the sixth Dalai Lama Tsangyang Gyatso, it was said that it is the name of Tsangyang Gyatso lover. And where he met Makye-ame was that yellow building. Makye-ame is a beautiful legend in the Tibetan area, means as the holy mother, pure girl, or can be extended into a beautiful dream.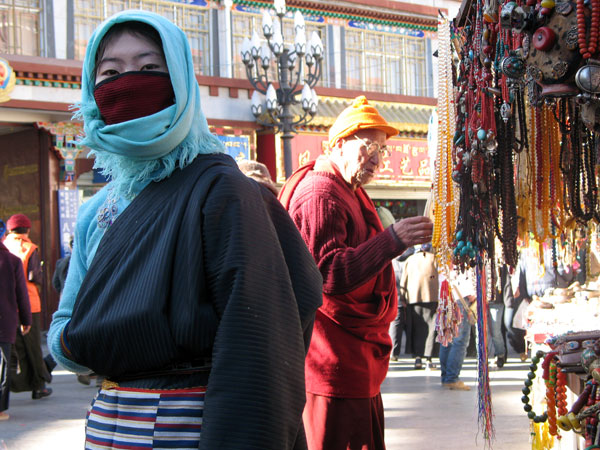 Barkhor Street Characteristics
Barkhor Street retained the original style and features of the ancient city of Lhasa, paved streets by hand grinding stones, and there also retained old house building aside. In the street there is a giant incense burner, the smog filled the sky day and night. On both sides of the street, there are more than 120 handicrafts shops and more than 200 vending stalls, business personnel 1300 people, operating more than 8000 kinds of commodities, with copper Buddha, prayer wheel, butter lamp, prayer flags, scripture, prayer beads, incense, pine branches and so on religious supplies; small Tibetan carpet, Tibet wool, apron, animal skins, harness, snuff bottles, steel (for flint), Tibetan quilt, Tibetan shoes, Tibetan knives, Tibetan cap, ghee, ghee barrel, wooden bowl, barley wine, sweet tea, milk residue, dried meat and so on daily necessities of life; Thangka paintings, handkerchief Tibetan carpets and other handicrafts and antiques, rich national characteristics of local specialties throughout the Tibet, etc. In addition, there are products from places such as India, Nepal, Burma, and Kashmir.
【Foods in Barkhor Street】
In Lhasa tourist restaurants Sichuan food is the mainly course, can also provide taste of western food for foreign tourists in Lhasa Holiday Inn. However, the main body of catering is Tibetan flavor, don't forget to worship heaven, earth and god when drinking. Tibetan food has no real cooking, flavor is in its original juice, c it is difficult to eat for carnivorous poor people. And unlike China inland, there is no chopstick, only the knife. As for barley wine and buttered tea, people have better to drink after taste, in case that people will have gastrointestinal discomfort in Tibet which is really in trouble. Ethnic restaurants in Lhasa also has good flavor, people can also try to taste. Lhasa has a variety of diet, in addition to bring your own favorite candy, biscuit, etc., you don't have to bring extra food. People can eat to all kinds of flavor food in Lhasa, such as the Tibetan cuisine, Cantonese cuisine, northern China food, Hunan food and so on. The most you can find is Sichuan food, which is quite popular with tourists and local people. There is a street in Lhasa that brings together the food all over the country, such as Sichuan cuisine, hot pot, all kinds of snacks and even western food, bar, etc., many visitors will chose to taste in Lhasa, that is Deji road.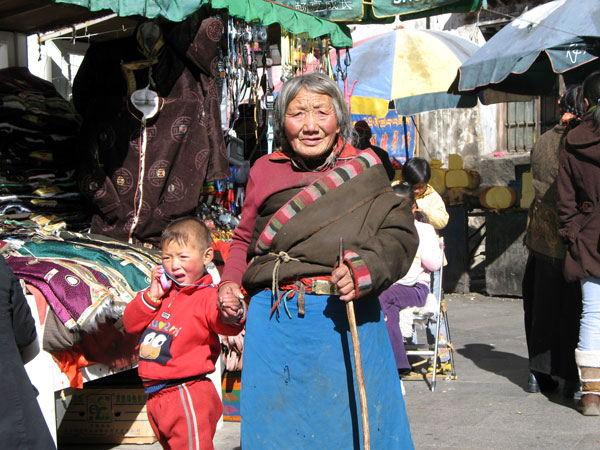 【Shopping in Barkhor Street】
Tibetan carpets, Tibetan knives, small carpets, apron, ethnic clothing, shoes and hats, gold and silver jewelry and various traditional arts and crafts, are the traditional handicrafts with strong local style and ethnic characteristics. Barkhor Street of Lhasa is the most famous commodity street in Lhasa, is the ancient and sacred place in Lhasa. In Barkhor Street visitors can stroll for a long time, you can buy souvenirs, remember to bargain. In addition, in the Barkhor Street you can also taste the authentic Tibetan diet. Tibetan medicine is famous in the world, don't miss to buy or appreciate the ganoderma lucidum, saffron, winter Chinese caterpillar fungus, Tibetan antelope horn, snow lotus, etc., and there are various compound Tibetan medicines.
Tip: if you buy the Tibetan knives, you can not take it into the plane, not even checked, but you can mail it through the post office. In the northern neighbor of the street, the post office in the middle of Beijing Road is the general post office in Lhasa, mail in there is much faster than in small post office.

Travel Guide of Barkhor Street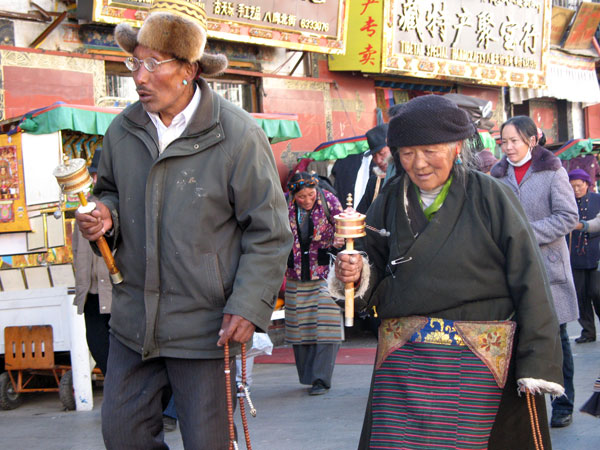 【Best time to travel Barkhor Street】 from March to October is the suitable month to visit, at that time visitors can avoid rainy season and severe winter.
【How to get to Barkhor Street】1. Take the local bus No.89, get off at Jiangsu Station and walk about 800 m to the Barkhor Street. 2. Take the local bus No. 108, get off at Women and Children's Hospital and walk about 400m to the Barkhor Street.