Shangri-la Grand Canyon · Balagezong Ecotourism Scenic area is located in the northwest of Shangri-la county, it is one of the core scenic area of "three parallel rivers", the world natural heritage Red Mountain area, 50 kilometers away from the county, 55 kilometers away from the Shangri-la airport, 700 kilometers from the provincial capital of Kunming. Ii is located in Yunnan Sichuan and Tibet junction, with a total area of 176 square kilometers. The Balagezong Snow Mountain is the highest peak of Shangri-la county, at an altitude of 5545 meters; its lowest point is in the south, at an altitude of 2000 meters, the relative elevation is 3545 meters.
Geography Circumstances
Shangri-la Grand Canyon and Gezong Snow Mountain are between 5545 meters to 2000 meters above sea level, with a total area of 176 square kilometers, which belong to a national nature reserve. Balagezong has various geological landscape, sacred mountain culture, Shambhala Stupa, Holy Banyan of Thousands of Years, Kangba tribe legend, the ancient village of Bala village, the Plateau Lake, Palm Gorge, rare animals and plants, etc., the original ecological environment is in well preserved.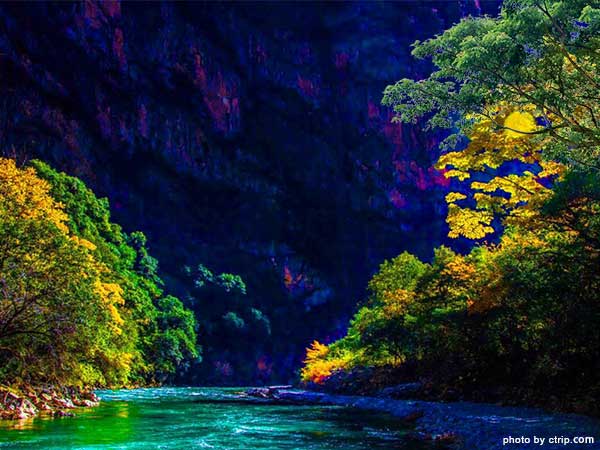 Climate
Balagezong Natural Scenic Spot belongs to the temperate climate with long winter and spring but short summer and fall. Annual average temperature is 10
℃, the hottest month (July, August, and September) monthly average temperature is 15 ℃, and the coldest month (January) of the average monthly temperature is 5 ℃.
What to See
【Gezong
Holy Mountain】 As the holy mountain of Shangri-La, Balagezong Holy Mountain has long been known as the "the peak of Shangri-La" and it presents a visually and spiritually stunning scenery to visitors. And it is one of the three holy mountains of Kangba region. Tall and straight Gezong Snow Peak has an elevation of 5545 meters, towering, covering with snow all year around, is the highest snow peak in Shangri-la city. Gezong Snow Mountain is also referred to as Gezong Bensong, which means that three Gezong sisters who are the daughters of the mountain god Rongzan Kawagebo and they will marry Gongga Bensong (the third prince of Gongga Holy Mountain) in the northeast of Gongga Holy Mountain family. In the sheep year of the Tibetan calendar, when the three beautiful princesses arrived at Bala accompanied by attendants, the day had broken. The three shy princesses had stayed in Bala from then on and became the three main peaks of Gezong Snow Mountain and the holy mountains of surrounding mountain. Gezong Holy Mountain is surrounded by clouds, making it more mysterious. The local people consider that people who see the summit is a blessing. Towering holy mountain is high, steep and imposing, but also quiet and secluded, and it is surrounded by a great number of special peaks. Buddhists regard Gezong Holy Mountain as a holy land, thus there are many followers every year come here to worship the mountain. These followers take trouble to here from thousands of miles away and pray and kowtowed along the way. Only make pilgrimages to the mountain can they believe they have come to a successful end and fulfilled their long-cherished wishes.
【Balagezong
Great Canyon】 Balagezong Great Canyon is an amazing masterpiece of the Nature. From the main peak with an elevation of 5,545 meters to the river valley with an elevation of 3,345 meters, the height difference of the ridge valley is a high as 3,545 meters. The most obvious feature of the canyon is that "canyon inside canyon, canyon on canyon, crisscrossing, stretch of canyons". On the both side of the canyon are mostly cliffs from 1,000 to 2,000 m. The grotesquely-shaped rock stratum texture and geological folds made up a huge rock painting. In the lush primeval forest, different kinds of exotic flowers and rare herbs as well as strange vines and trees bring out the best in each other. Fields of cactus and palms, boundless azaleas sea, large areas of vegetation, clear and beautiful river winds its way and stir up spindrift, steep cliffs and plunging waterfall… All these gorgeous sceneries seem to be the wonderfulness of the Nature.






【Shambhala Stupa】

Shambhala Stupa is located in the northeast of Balagezong Holy Mountain, it is one of the main landscape of the scenic area. Natural formed pyramid peak wears snow towering standing in the sky, like sitting lama chanting and the opening scripture. This stupa, scripture and old lama three mountains are known as triratna "the Buddha, Dhamma, and Sangha" visually.


【Plateau
Lake】 There are around 18 sacred plateau lakes in different size around Balagezong Holy Mountain, like Luozucuo (Sheep Lake), Cuona Zanwangka (Olla Lake) and Cirencuo (Longevity Lake). The beautiful lake and the blue just like a bright mirror stay still between the blue sky and white clouds. It is clear and it has ripples, its blue is both transparent and clear, which is as the painting fell on the plateau given by the heaven.
【Holy Banyan of Thousands of Years】 There is another reason for so many Buddhists come here to make their pilgrimage and pray. At the entrance to the scenic area, there is a banyan that has more than thousands of years history. According to expert's investigation and deduction, the banyan tree is more than three thousands years old. It passed through millennium, leaned on the cliff and grew in this magic land of Balagezong for thousands of years, now it is still green and exuberant. As thick as bowl, the trunk has crawled with 400 square meter cliff. What is more amazing is that the "buddha's hand" magically grown from this tree. Banyan is one of the most sacred trees in the world. Banyan or Bodhi Tree comes from Sanskrit, and bodhi means awareness and enlightenment in Chinese. According to legend, around more than 2,500 years ago, Buddha Shakyamuni sat still (as a form of therapy, meditation) under a banyan for seven days and seven nights and overcame all the evil and temptations, and then became a Buddha. On this snowy plateau, which is based on Buddhist culture and prevail Tibetan Buddhism, the Buddhist meaning of banyan is more important. And banyan stands for enlightenment and wisdom, which is used for guiding people to awake, epiphany, and attain an unworldly state.
【Bala
Village】 Surrounded by mountains, the Bala Village is a typical Tibetan village. "Ba village" means "the Tibetan village comes from Batang" in Tibetan language. And Tibetan scripture recorded that from thousand thousands year, people put themselves out of way to come here from faraway land, they sought for an ideal home where kept away from wars and sufferings. When they came here they finally settled down. From then on, Balagezong as the symbol of ideal home and paradise has been eternally passed down in the ballad from one generation to another. Tibetan wooden buildings were built according to mountain terrain, and there are colorful prayer flags surrounded the Marnyi Stone at the end of the village. Every summer, surrounding large fields of farmlands and grasslands are green and full of vitality. And during autumn, the farmlands and grasslands become green alternating with yellow.



Activities
【Campfire Party】 After the performance at the Performance Center, in the front field of Water Village Hotel, Tibetan Boys and Girls have lit bonfire waiting for the coming visitors. During the campfire party, these Tibetan boys and girls will interact warmly and happily with the tourists, such as dancing together happily hand in hand. In here, you can lay down your worries for a while and put yourself into the sea of joy thoroughly by dancing.
【Performance
Center】 Balagezong Tibetan Cultural Inheritance and Performance Center is of national features. When you go to Tibetan's home, you will be greeted by the local Tibetan with offering hada to you, and Droma (meaning girl in Tibetan language) will present the highland barley wine to visitors at the gate. After entering the performance center and taking seat, visitors will be offered hot buttered tea, highland barley fried noodles, roast chicken, and some fried foods. You can drink the highland barley wine as much as you want. You will see singing and dancing performance, and you will be gave a hada by performers. The Tibetan young men dance vigorously and sing in a thick voice. The Tibetan girls dance gracefully and sing in loud and clear voice. In Balagezong Water Village Tibetan homes, there are many kinds of Tibetan-styled songs and dances. The most typical are Nixi dance, three cups of alcohol, etc.
【Drift】 The canyon here is of U shape. From the bottom of valley to the top of canyon, the body of both sides of mountains has a close distance. The steep precipices and cliffs are as curtain shape, and they are as high as one thousand meters. The canyon is too deep and narrow so that the bottom of valley seems too gloomy and dark, which is like walking on the diabolism road of underground. Looking up from the bottom of valley, a gleam of sky can be seen between the cliffs on both sides. Drifting will enable tourists to appreciate such beautiful scenery which look like poem and painting and the panorama of the valley.
How to Get
【By Taxi】 Reference price: 150 to 200 RMB one way, 300 to 350 RMB round way. People have better to make an appointment of pick up time with the taxi driver and leave the driver telephone number, in order to avoid that you could not hit the car when you going back.
【The Scenic Area Shuttle Bus】

From Dukezong Ancient Town to Balagezong, the round way cost 50 RMB. It departs at 8:30 in the morning during summer, and departs at 9:00 in the morning during winter, and it takes 1 to 1 and a half hour to there. The return time is 15:00, and the boarding place is in the parking lot of Balagezong Scenic Area. People can buy bus ticket in Shangri-la Balagezong Dukezong Ancient Town Enquiry Point.
【Self-Driving】 Setting off from Shangri-la, driving along the national road 214 Route (Deqin direction) to the Nixi Village bridge on the fork road (about 50 kilometers), there is the giant billboard of Balagezong Scenic Area, and then turning right into the scenic highway, going 17 km forward to Balagezong Scenic Area Tourist Reception Center. The whole driving time will be 40 minutes to 1 hour.
Travel Guide
【Chinese Name】: 巴拉格宗风景区
【Recommended Visiting Time】: 1 to 2 days
【Best Time to Visit Balagezong Scenic Area】: all the year round