Astana was the public cemetery of the ancient
Gaochang residents, both aristocrats and commoners. However, among 456 excavated tombs in
Astana Tomb (Chinese name: 阿斯塔那古墓群), no King of Gaochang has been found. The dead in Astana Tomb were placed on an earthen or wooden bed in the back of the chamber; they had wood in both hands and wore cotton, linen or silk clothes. Around them were arranged miniature pavilions, carts and horses, parades, musical instruments, chess sets, pens and ink, grapes, melons, dumplings and pancakes. In the ancient Chinese people's mind, these were to be used by the dead in another world. Owing to the arid climate, the relics are very well preserved.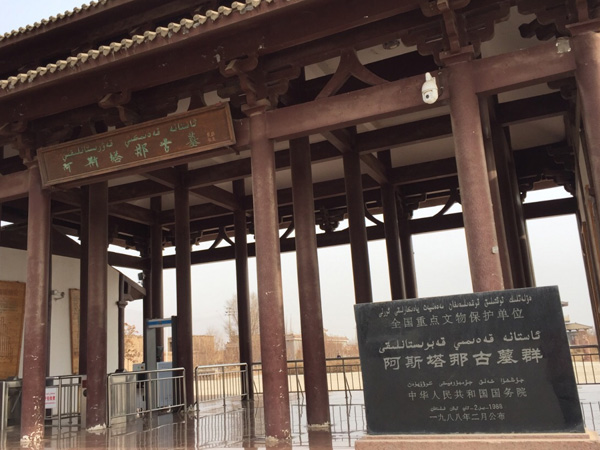 Different plots for separate castes and families are marked by gravel dividers. Due to the arid environment many important artifacts have been well preserved at the tombs, including natural mummies.
A typical tomb in Astana Tomb is entered by a 10 meter sloping staircase. The tombs are not very large, usually only 2 meters high. Some tombs also have murals inside. The deceased were laid on a small raised platform in the back of the tomb, surrounded by possessions and even food. Their faces were covered by cloths, some of which have distinct Persian motifs. A small funeral brick was placed next to each body, on which was written the person's name and other biographical information. These bricks have been incredibly useful for historians to date the tombs' finds.

Astana tomb complex, give priority to with buried the han people, and at the same time buried car division, Turkish, the huns, high car, and zhao wu toghuzghuz minority residents, this suggests that the body of the nation is the han nationality, the gaochang kingdom between all ethnic groups are equal.Is the gaochang city residents to seek happiness after the death of solitude, in more than 10 kilometers of the gobi sand dunes, accumulation of ancient burial.Both general gift-it, power, and ordinary people, the lower the soldier. So today's scholars called "the history of the gaochang live file, is the turpan area of underground museum".Astana tomb complex in 1988 by the state council as a national key cultural relics protection units.
Transport
It is convenient to go to Astana tomb, the road is smooth (standard secondary tourism special line highway), tourists can go there according to different need to take different ways.


【By Taxi】

Round way to Astana Tomb by taxi costs 80 Yuan and just stay 1 hour in there; one-way to Astana takes about 50 yuan/car.
【By bus】

1. Tourists can take bus from the bus station in Turpan to Shanshan bus get off at Shengjinkou, transfer to local tricycle motorcycle to Astana tomb (Turpan to Shengjinkou 5 yuan/person, Shengjinkou to Astana 2 yuan/person).

2. From the bus take to Sanbao township, get off at the Astana Tomb Group entrance (Turpan to Sanbao 5 yuan/person).
【Self-driving】

From the downtown to there, 40 minutes is enough for self-driving.


Route
【Day Tour】: at 8:30 every morning from a day at the hotel takes the Turpan tour bus which can visit most of the tourist attractions, but stay time of each scenic spot is short. Price: 45 yuan/person, namely start over four people.
【Day trip taxi】: can visit eight scenic spots, price can discuss to owners. Reference price is: Santana, Citroen 200-300 yuan/car; Chaali, Skoda, 160-220 yuan/car; Minibus for 6 people 120-180 yuan/car.
Tips
1. When visit to Astana tomb, please don't bring camera and video camera into it, you can put in the car, or you can deposit in the ticket office.

2. Please don't touch the paintings inside the chamber.

3. For your safety, please don't go to some area where not open.